Structured irrigation water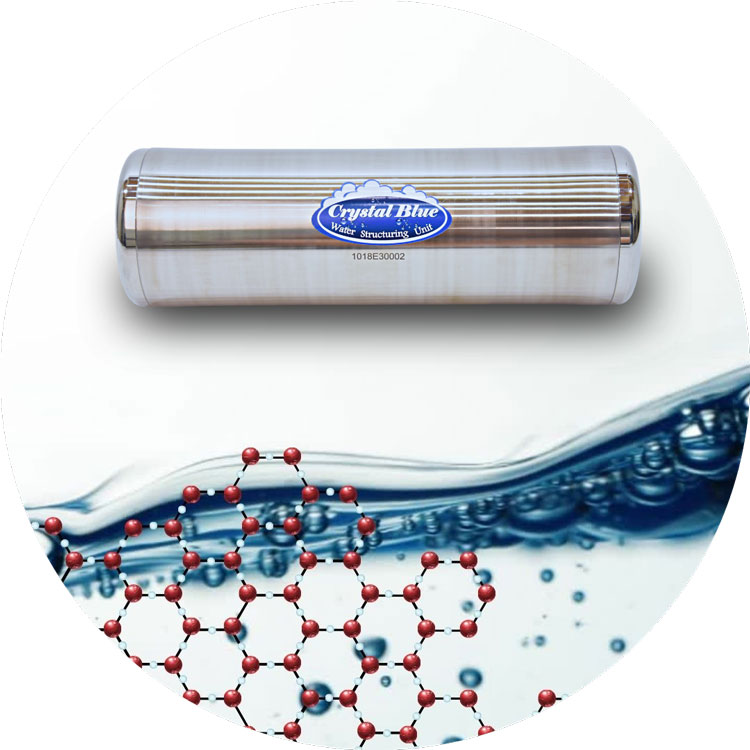 Whether you are an experienced farmer or a dedicated agricultural expert, consider enhancing your irrigation practices with CRYSTAL BLUE structured water to promote a healthier environment and support our Planet's well-being. This simple and eco-friendly shift will encourage more robust plant growth and help conserve Earth's precious resources.
Homeowners and gardening enthusiasts looking to improve their watering regimen should use SP Water Structuring Units specifically designed for a home use.
BENEFITS OF WATERING WITH CRYSTAL BLUE STRUCTURED WATER
Enhanced water absorption
Orderly molecular structure of CRYSTAL BLUE structured water promotes efficient absorption by plants and soil, ensuring receive optimal hydration.
Improved nutrient uptake
Structured facilitates better nutrient transport and absorption by plants, contributing to healthier growth and higher yields.
Reduced water consumption
CRYSTAL BLUE structured water can save up to 40% of irrigation water due to its high bio-availability.
Decreased salt buildup
Structured water helps mitigate salt buildup in the soil, preventing damage to plant roots and maintaining the soil's fertility.
Soil health
The enhanced hydration provided by CRYSTAL BLUE structured water can help maintain soil structure and prevent soil compaction, which is essential for healthy plant growth and root development.
Reduced reliance on chemicals
Healthier plants, improved nutrient uptake, and better soil conditions reduce the need for chemical fertilizers and pesticides, resulting in a more eco-friendly approach to irrigation.
Improved overall plant health
By promoting better hydration, nutrient absorption, and soil conditions, structured water contributes to healthier, more robust, and more productive plants.
We are here to assist you! Contact us for further information and personalized support.