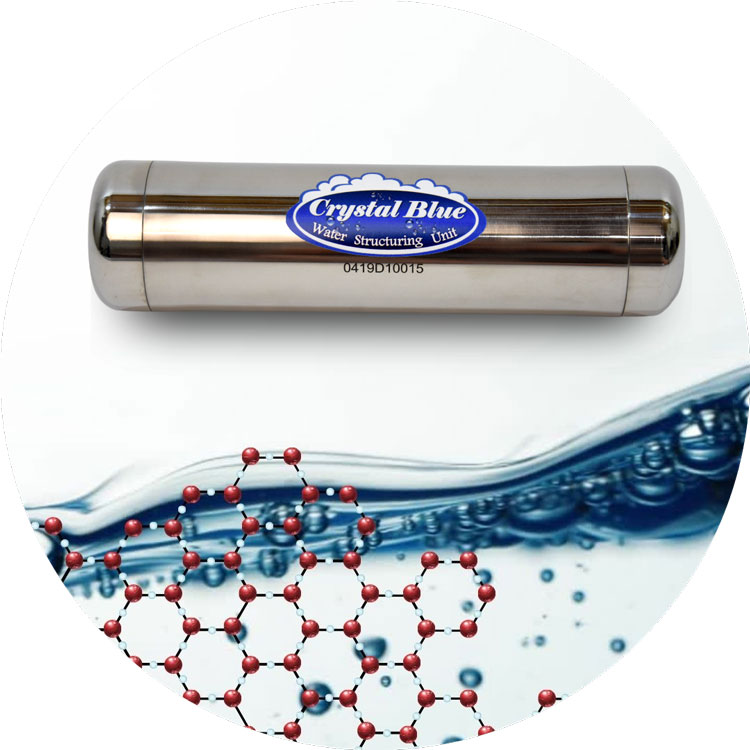 Install a CRYSTAL BLUE unit on your home's water supply pipe and experience the revitalizing benefits of structured shower water. As our skin can absorb and retain a small amount of moisture, regular showers with structured water lead to smoother, better-hydrated skin and softer hair.
CRYSTAL BLUE STRUCTURED WATER the perfect solution for atopic, sensitive, and dry skin types. Elevate your skincare routine and unlock the secret to a healthy, radiant complexion with CRYSTAL BLUE STRUCTURED WATER.
Apart from health benefits CRYSTAL BLUE domestic units prolong life span of your household appliances and ensure better maintenance of the plumbing system.
BENEFITS OF SHOWERING WITH CRYSTAL BLUE STRUCTURED WATER
Enhanced skin hydration
Due to its unique molecular arrangement, structured water can provide superior hydration to the skin, helping to maintain its elasticity and suppleness.
Gentle cleansing
Structured water helps dissolve and wash away dirt, oil, and impurities from your skin, resulting in a gentler and more thorough cleansing experience.
Reduced exposure to chemicals and chemical smell of tap water
CRYSTAL BLUE WATER STRUCTURING UNITS break bonds of harmful chemicals or contaminants often found in tap water de-activating them as well as lowering unpleasant smell.
Improved hair health
The enhanced hydration provided by structured water may also benefit your hair, leaving it softer, more manageable, and less prone to damage from breakage or split ends.
Softer water feel
Structured water feels "softer" on their skin, providing a more comfortable and enjoyable showering experience.
Energizing effects
Many people report that CRYSTAL BLUE structured water has energizing properties, which could potentially invigorate and revitalize your body during a shower.
We are here to assist you! Contact us for further information and personalized support.